Messu Myllykoskella - Communion Service at Myllykoski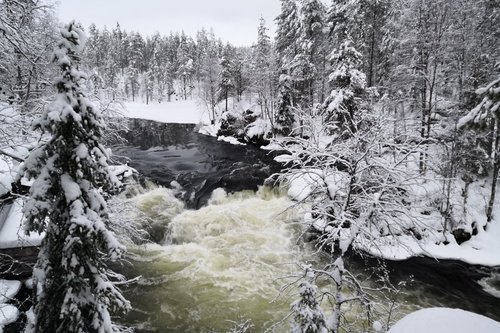 Messu luonnon rauhassa
Marika Villikka ja Laura Piilonen

Communion service on Saturday 7th of December
Service in Finnish and English in the most beautiful setting of Myllykoski.
Locals, tourists, nature lovers, everyone interested is welcome to praise the Creator together in the midst of nature. After the service hot juice by the fires. You can also bring your own snacks. You are welcome to drop by or to stay as long as you want! Parking: Basecamp Oulanka (Myllykoskentie 30). For more information contact pastor Marika from the Lutheran parish of Kuusamo, marika.villikka@evl.fi, 050 4334 724. If you need a lift or you can give one to someone, let us know!

Messu lauantaina 7. joulukuuta
Kaksikielinen messu ulkona luonnon rauhassa Myllykoskella. Kyläläisille, matkailijoille, luonnonystäville, kaikille kiinnostuneille tarkoitettu jumalanpalvelus Luojan luoman talvisen luonnon keskellä. Messun jälkeen glögit tulen ääressä. Voit ottaa myös omia eväitä mukaan. Tervetuloa piipahtamaan tai viipyilemään! Järjestäjä Kuusamon luterilainen seurakunta yhdessä paikallisten kanssa. Parkkipaikka: Basecamp Oulanka (Myllykoskentie 30). Jos olet vailla kyytiä tai voit tarjota kyydin ole yhteydessä Marikaan! Yhteystiedot yläpuolella.
---